Incubator User Comments for Curfew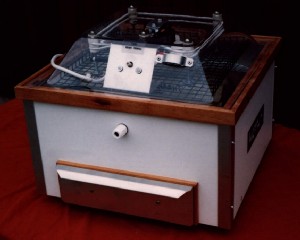 Curfew

I own a small Curfew model 236. It's English made and well made. It's really too small for my needs, but I supplement with a couple of Little Giants.
The Curfew is easy to take apart and clean. It's wood, with a plastic laminate, so it's very easy to clean.
It has a clear top and the eggs are rolled on wooden dowels. There is a little hatching tray that fits over the dowels for when the time comes.
I really like it. It's easy to work, but it was a little expensive for the number of eggs that it hatches. It holds 20 large eggs and the dowels can be moved around to hold even larger or smaller eggs. I've hatched button quails in it and it's done a great job.
This machine with the fan, clear lid, turner, and everything was $385. I didn't get the automatic humidity control because our ambient humidity is very close to being perfect for hatching.
The Curfew people will do a checkup on the machine free of charge when I've had it for 2 years. I've had it for over a year in almost constant operation and have had not one problem with it.
I keep a few Little Giants around and let the schools borrow them for hatching projects. I have an egg turner if they want it and a model with a fan. I find that the children have better hatches than I do with them. The teachers usually don't want the turner. The children turn the eggs themselves. I use them for the actual hatching and go ahead and start over again with the curfew if I run short of incubator space...which is often.