Incubator User Comments for GQF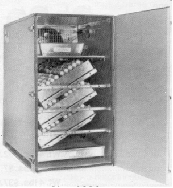 GQF MFG Co.

The GQF I used last summer was one of the truly old ones that had a screw crank turner, which was missing. It was a wafer type and had a a solid door.
I ran guinea eggs in it for three months, moving those due to hatch to the hatching tray and adding new eggs as I went. It held temperature very well and I got excellent hatches, ranging from l00% to around 80%.
In the fall I bought a used GQF that was set up for ratites, with only two trays and no hatching tray. It can be set up with the third tray and I have already added the hatching tray. It has the electronic thermostat and the plexiglass door.
Both my wife and I are allergic to chick down so I set the incubator up in my garage, which is unheated and approaches freezing temp when it is around zero outside. I found at once that the incubator could not hold temp without help, so I bought a foil lined rigid foam insulation sheet and encased the incubator in that. I fitted the pieces, cutting openings for all the controls and the thermometer, then used duct tape to seal the joints. It is essentially an incubator glove and can be removed. The piece over the door is hinged with duct tape so that I can look inside.
This worked until the outside temperature got down around l0 degrees, at which point I noticed a dip in the temp, so I put an ordinary blanket over the whole mess.
The first hatch produced poor results, only about 21 eggs hatched out of 43 set. Indications were low temp, so I set the incubator up one degree and this time the hatch came off in exactly 21 days, with excellent results.
We purchased that model incubator January 2000 and are very pleased with it. We got the optional clear door, plstic egg racks (instead of the cardboard ones that come with it) and the automatic humidity reservoir, (only complaint was that the fitting coming out of the reservoir sprung a leak where it was sealed). Other than that it has worked great. Has been running steady since 2 nd week of January, without a glitch and the hatches have been good. We looked at several different models in that price range... and it seemed like you got more for your money so decided on the sportsman.. and are pleased with performance so far.


I have a Sportsman 1202 (why not start big?!) I love that it holds lots of eggs, is easy to clean, and I can hatch continuously in it.
I watched the humidity and temp. faithfully, and it stayed pretty consistent.
I got the clear door for it, so I could watch the babies come out.
I added a sponge to the hatching tray for extra humidity. The birds I am hatching I will either sell, or keep for brooding stock.


I have a G.Q.F. #1202 Sportsman. It came with an automatic egg turner which I highly recommend and I purchased an electronic thermostat to replace one of two "wafer style" thermostats that come with the unit.
One is your main thermostat (in my case the electronic) and one that is a back-up should the first one fail. The electronic thermostat is much more sensative and provides an even more uniform temperature.
A circulating fan is standard on this model.
It has three egg trays and one hatching tray w/ lid at the bottom. A clean-out tray makes removing small pieces of eggshell, etc. a breeze.
When I got my incubator several years ago, it was in the $350.00 price range and Smith Poultry (www.poultrysupplies.com) have the same thing with the electronic thermostat already installed for $425.00 - a good deal!
East to operate, simple as 1-2-3! You plug it in, let it warm up, fine tune the thermostat settings and GO! A periodic check of the temp and humidity is a wise thing, but very seldom does the temp need adjusting once it is set at the beginning of the season.
Easy to clean. The trays are metal and I set them in my bath tub in hot water with a small amount of bleach or Tek-trol, and they are as clean as could be. I use plastic egg flats in the metal trays to hold my eggs (just life the paperboard ones used to hold 30 or 36 eggs when eggs are sold by the case) and they can be tossed in the tub and washed as well. This all adds up to a cleaner and healthier incubator.
This is a bigger incubator which can hold up to 300 eggs or something like that. By using the plastic egg flats, I can hold 60 eggs in each tray for a total of 180 egg capacity in this fashion. It is a nice set-up for me because I set eggs every Sunday. Each week I fill another tray and the newest tray to be inserted goes in the top slot (there are three). Then, the next week it is moved down one slot to make room for the new tray. Then it is moved down to the bottom slot for days 14-18. After day 18, the eggs in the tray are put in the hatching tray located at the very bottom and I wash and sanitize the egg tray so that it is ready be be filled with eggs again and start the cycle all over again.


Got a hovabator auto turn fan quail and regular egg racks, cost 89.95 at burkey 1-800-531-1097. I liked it but it only hatched 42 bantam eggs at a time. Have a 1202 that I love it has all the features I bought an emu incubator and reconverted it to be a 1202. Paid $150.00 for it used. It has a hatching tray in the bottom and three setting trays. I hatch about 50- 60 oe game bantams a week and about 200 amherst and red golden in season. I like both of them. Hatching varies from 85-93%. I use the hovabator as a hatcher now.   works great. 


The GQF 1202. I have two of them I bought used. Had them for 20+ years and 15+ years without any problems. Just replace an occasional wafer. There are also eggggg trays you can get that increase the capacity to six dozen per shelf or a total of 18 dozen standard size chicken egggggs. You can also get trays for anything from quail egggggs to large chicken (hold 30 egggggs per tray). If you egggggspect to be interested in hatching for a long time, the 1202 is well worth the egggggspence.
Check some of the auction sites or poultry newspapers/magazines - you might find a used one.


I am just new at this. So, I can only tell you what I have and that is a GQF incubator it will hold 354 pheasant eggs It I think is a good machine for a beginner because "I are one" and I could really understand it's operation easily.
I purchased it from Cutler Supply because they paid for shipping and also furnished 6 plastic trays in addition to the paper ones provided by manufacturer.
The only thing I was disappointed in was that it only has one thermometer W/probe and I would like to have second one for wet bulb temp.


I have a GQF Sportsman 1502 cabinet style incubator. The difference between the 1202 and the 1502 is the electronic thermostat(1502) which will hold the temperature extremely steady. It has three setting trays and one hatching tray on the bottom. With different egg trays you can set 120 goose or peafowl eggs, 150 chicken eggs or 300 bantam duck eggs. I've been past that capacity a couple of times and have had to make use of my backup hatchers. Those backup hatchers are Cochin201 and Brahma101 and 201. The extras that I have with the standard 1502 are the clear acrylic door for viewing and the extra humidity tank with a 6 gallon capacity.
The cost of a new 1502 with extras is around the $500 to $550 dollar range.
I would highly recommend it for a beginner but the cost and capacity might be a little much for someone who is just starting or only hatching a few eggs.
The things that I like most about the 1502 are the temperature and humidity control. Once those are set there are very little adjustments aside from drastic seasonal changes. I also like the extra humidity tank so you don't have to watch the water level constantly. I keep it filled with distilled water so I don't have to worry about problems with the wick of the wet bulb thermometer.
The one thing that I don't like is having to use the hatcher at the bottom of the incubator and keeping it clean after each hatching. I will be on the look out for a used GQF Sportman 1570 hatcher. These are emu hatchers and can be found pretty easily these days at good prices. I will use the eggs cages in the hatching trays and use them as pedigree cages for pedigreed matings. Right now I just use small hardware cloth rings and those little call ducks always manage to get out the there.


My 'bators are GQFs. I have 2 and a separate GQF hatcher. Don't know the model # but it would be very similar to the GQF Sportsman. They were originally bought for hatching emu eggs. I now use them for pheasant, goose, duck, chicken and peafowl.
Each will hold 288 standard size chicken eggs therefore many more than that of smaller eggs.
Everything is automatic--circulating fan, egg turner, thermostat, etc. There is a backup thermostat in case the first fails, 2 pans for water and I have the acrylic doors.
The hatcher has 3 trays which can be divided using pieces of hardware cloth. I've used them almost constantly for 4 years withough a single problem.
I'd recommend them for beginners as they are so hassle free. I paid $465 each for them 4 years ago. I think the hatcher may have been a little less.
The only thing I don't like is the weight. Each weighs about 80 lbs.